Overview
Achilles Tendinitis is a common overuse injury which results in inflammation of the achilles tendon, most frequently causing mild to severe heel pain. The achilles tendon is the largest tendon in the body, connecting your calf muscle to your heel bone. It?s used with every step - when you walk, run, and jump. Although the Achilles tendon can withstand great stresses, it?s also prone to tendinitis. The condition is very common in athletes, especially runners who?ve suddenly increased the intensity or duration of their workouts. It?s also common in middle-aged, ?weekend athletes? who play sports like tennis or basketball only occasionally. The pain from achilles tendinitis may be felt anywhere from the back of the leg to the top of the heel. Most cases are mild and can be treated at home under a podiatrist?s supervision. Severe cases of Achilles tendinitis can lead to tendon tears (ruptures) that may require surgical repair.
Causes
The causes of Achilles tendonitis all appear to be related to excessive stress being transmitted through the tendon. Weak calf muscles, poor ankle range of motion, and excessive pronation have all been connected with the development of Achilles problems.The upshot is that all of these factors, plus training volume and so on, result in damage to the tendon. Much like a bungee cord is made up of tiny strands of rubber aligned together, tendons are comprised of small fiber-like proteins called collagen. Pain in the Achilles tendon is a result of damage to the collagen. Because of this, treatment options should start with ways to address this.
Symptoms
Mild ache in the back of the lower leg, especially after running. More acute pain may occur after prolonged activity, Tenderness or stiffness in the morning. In most cases the pain associated with Achilles tendinitis is more annoying than debilitating, making sufferers regret activity after the fact, but not keeping them from doing it. More severe pain around the Achilles tendon may be a symptom of a much more serious ruptured tendon.
Diagnosis
If Achilles tendonitis is suspected, avoid any exercise or activity that causes the pain. It is advisable to see a doctor promptly so that an accurate diagnosis can be made and appropriate treatment recommended. The doctor will take a full medical history and will ask about the nature and duration of the symptoms. They will perform a physical examination of the affected area. Ultrasound scanning may be used to assess damage to the tendon or surrounding structures. Occasionally MRI (magnetic resonance imaging) may be recommended. The symptoms of Achilles tendonitis are often similar to symptoms of other conditions such as partial Achilles tendon rupture and heel bursitis. This can make diagnosis difficult and a referral to an orthopaedic specialist may be required in order for an accurate diagnosis to be made.
Nonsurgical Treatment
Treatment depends on severity of pain. The most effective long-term treatment for Achilles tendinitis/tendinopathy is physical therapy, particularly therapy that focuses on eccentric muscle/tendon strengthening. Calf and Achilles stretching are also an important part of the treatment. In severe cases, treatment may begin with a period of rest and immobilization in order to calm down the tendon before physical therapy is initiated. Anti-inflammatories may be prescribed. Avoiding activities that aggravate the Achilles tendon will help the healing process. Improvement and resolution of symptoms can take months. Exercise might be the cause of Achilles tendonitis, but it can also help prevent it and aid in recovery. Healing will occur more quickly if there is no pressure on the injured tendon, and if the foot is at least partially immobilized.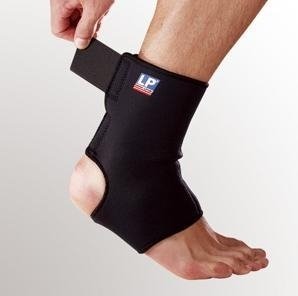 Surgical Treatment
Following the MRI or ultrasound scan of the Achilles tendon the extent of the degenerative change would have been defined. The two main types of operation for Achilles tendinosis are either a stripping of the outer sheath (paratenon) and longitudinal incisions into the tendon (known as a debridement) or a major excision of large portions of the tendon, the defects thus created then being reconstructed using either allograft (donor tendon, such as Wright medical graft jacket) or more commonly using a flexor hallucis longus tendon transfer. In cases of Achilles tendonosis with more minor degrees of degenerative change the areas can be stimulated to repair itself by incising the tendon, in the line of the fibres, which stimulates an ingrowth of blood vessels and results in the healing response. With severe Achilles tendonosis, occasionally a large area of painful tendon needs to be excised which then produces a defect which requires filling. This is best done by transferring the flexor hallucis longus muscle belly and tendon, which lies adjacent to the Achilles tendon. This results in a composite/double tendon after the operation, with little deficit from the transferred tendon.
Prevention
You can take measures to reduce your risk of developing Achilles Tendinitis. This includes, Increasing your activity level gradually, choosing your shoes carefully, daily stretching and doing exercises to strengthen your calf muscles. As well, applying a small amount ZAX?s Original Heelspur Cream onto your Achilles tendon before and after exercise.